At Vibra Health we searched
for a skin care solution that would work with Rapid Slim and your body to turn back the hands of time. A new science that could provide your skin with the same type of quick change that Rapid Slim provides your body.
With SkinCerity we believe we found that product. The science works and the results are amazing. First used by dermatologist and plastic surgeons after trialing this product ourselves we're excited to be able to make SkinCerity available to you.
DESCRIPTION
Nightly Breathable Masque
The key to a functionally rejuvenating masque is breath-ability. Studies have shown that if a facial masque isn't breathable, it's not healthy for your skin. SkinCerity is the world's only breathable masque clinically proven to improve the health of your skin. It's our Breathable Barrier® technology, which seals in your own natural moisture to deeply hydrate your skin that makes the difference. Engineered by biomedical experts and validated by numerous dermatological research studies supported by the National Institutes of Health, SkinCerity has been shown to be substantially more effective than over-the-counter creams in delivering a higher nutrient content into the skin. Simply roll on before you go to bed, and SkinCerity takes care of the rest.
Breathable barrier works while you sleep to seal in natural moisture and simultaneously allow the skin to breathe
Deep cleans on contact and flash-dries in seconds
Delivers a continual source of nutrients to combat sun damage
Reduces appearance of fine lines, wrinkles, and enlarged pores on face, hands, neck, or chest
Directions For Use:
Roll on a thin layer nightly at bedtime
flash dries in 3-5 seconds
In the morning, remove with
warm water.
INGREDIENTS
Acetone, Fluoropolymer, Tocopherol
Acetate (Vitamin E), Acrylic Polymer, Water,
Vitis Vinifera (Grape) Seed Oil, Fragrance.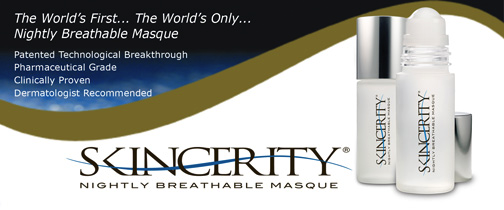 Add to Cart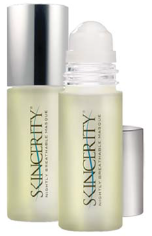 Add to Cart