Vibra Health B-UPS formula contains vital support that provides additional energy and alertness of mind when you need it most. When you're really busy and have to keep going coffee and energy drinks tend to give you a hyper body and racing mind. Vibra health B-UPs will energize your body, and increase your mental alertness with out over stimulating you. When 3 o'clock itas' and the fuzzies hit wether your a busy mum, a truck driver, an over stressed executive or a high school student studying for your final exams Vibra Health B-Ups is a safe healthy energy boosting option.
Ingredients: I bottle contains 60 doses;
Vitamin B-12 :Purified Water, Sorbitol, Vegetable glycerine, Citric Acid, Potassium Sorbate (natural preservative), Organic Berry Flavor.
Directions: The longer you hold B-ups under the tongue the quicker the absorbency.
B-UPS should only be take as needed or as directed by your health care professional. If lack of energy persist please see your health care professional.
If you are already taking a Vitamin B complex or have regular Vitamin B 12 shots, you may take B-UPS as directed above for that extra boost when you need it.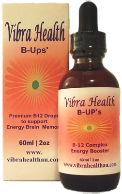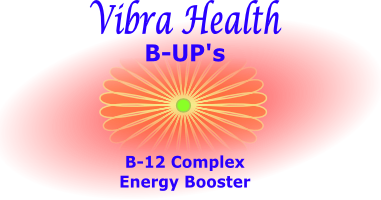 Add to Cart